Services and areas of Koruna pension
Free wi-Fi
We privides 100% quality services, friendly staff, great chef. We emphasis on specific requirements of our guests. We have 10 rooms and 2 suites. Each room has its own bathroom, toilet, TV. Free WIFI is a must.
Finnish sauna, outdoor pool, fitness center with a hugerange of amenities are also a guarantee of satisfaction.
However, not only pension itself provides sufficient comfort but also Rudnianska valey surroundings offers many opportunities for active recreation and relaxation appealing.
Newly built playground will make childrens faces into a smile.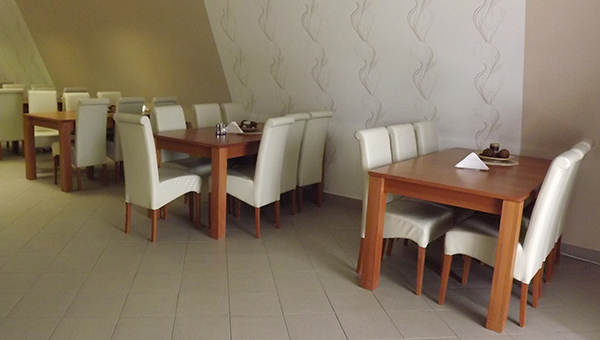 Restaurant and daily menu
---

We invite you to offer our services. The restaurant is popular for its delitious cuisine, where you can find all your belove food, for which you'll come back here. It is very nicely furnished and can be used as a lounge with bar for up to 40 people and a summer terrace for 20 people additionally with very reasonable prices and of course fast service. We try to use regional food, you'll really appreciate. We cook several types of ready meals and lunch menu from Monday to Friday. You can choose the food prepared from fish, poultry, appetizers, creams, salads, steaks, kebabs and other specialties. We can all the meals also on covered terrace with a barbecue grill chicken, smoked pork knee, fish, kebabs, steaks, sausages and other delicacies.
Wedding planner
---

Why you should let us to organize a wedding for you? We relieve you from the worries and stress caused by organizing the wedding. So the wedding is carefree for you and memorable! We will organize and arrange and you can only have fun! Your only duty is to inform us about your ideas. Experience the indescribable romance in a party tent in the open air with a beautifull view.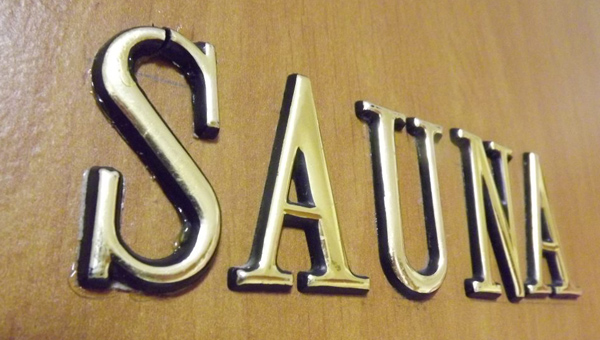 Finnish sauna
---

The beneficial effects of sauna on human body and mind are known. Sauna bathing is therefore very popular - saunas can be found in the swimming pool, wellness center and in hotels. Enjoyment the sauna you will experience if you reserve sauna for yourself, as you can have it with us, just book it in advance. Finnish sauna is a dry sauna. We recommend the visitors to take shower and dry as well before entering the sauna. The temperature and humidity are automatically guarded. Enjoy the sauna, do not forget to regularly cool yourself with water and finally get yourself adequate chill.
Fitness Centre
---

In the main building you can visit the fitness center. Hotel guests have free access to it. Allows you a simple but quality training. Fitness room is equipped with all essential tools, benches, dumbbells and additional weights. Cardio zone can be used to enhance and preserve body condition. You will find stepper, treadmill and exercise bike. We have not forgotten additional equipment like fitball, smaller weights to aerobics or Zumba. You can create the atmosphere with the music to suit your taste.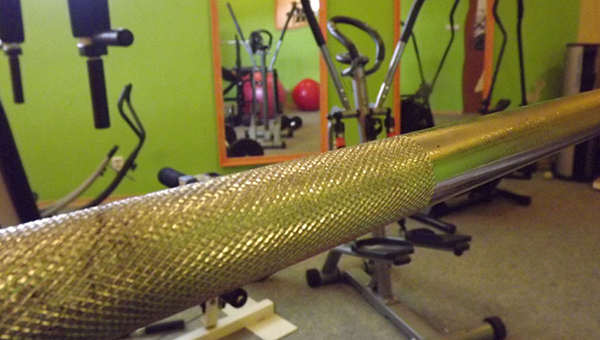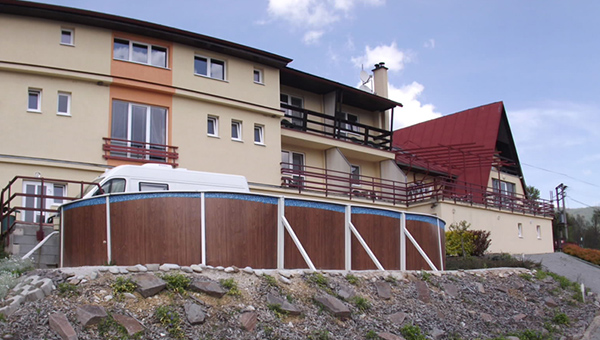 Small outdoor pool
---

Outdoor pool in the summer is one of the most popular parts of the outer area of the Pension Koruna for families, especially thouse with small children. For refreshment you do not have to drive far, it is situated directly on site. During the holiday season it is open and accessible all day long. If you you suddenly feel hunger or thirst, theere is a terrase just a few meters to the pool. We invite you to discover the world of beautiful and extraordinary experience. Now close your eyes and try to imagine how would you feel if you had such a comfort just o few steps from the rooms. The surface of the pool glitters in the sun rays and in the summer heat with pleasure you dive into the refreshing and crystal clear water.
Garden
---

You have always thought that pension residence combined with beautiful exterior belongs only to expensive hotels? Would you like to experience a view when you wake full of enchanting garden that would also be a pleasant place for relaxation and recreation? You have to had a lack of imagination to fulfill your dream. Following dreams definitely not belongs among the unfeasible. Just as the man taking care of its appearance, it is important for us to take care about the surroundings in which we offer the services to our guests. The garden has interesting trees, beautiful blooming flowers and a pond full of active fishes.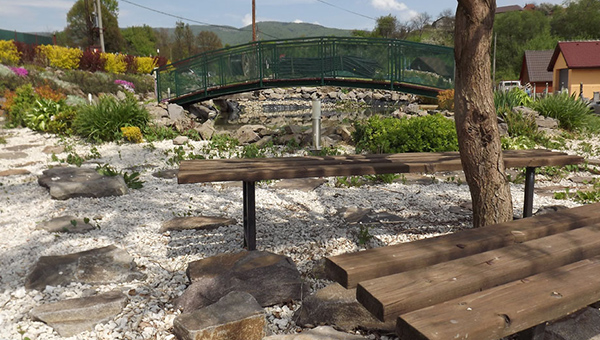 Barbecue
---

Finally, the grilling season started. One of our services is to organize a barbecue party. Fans of dining outside will come into their favour. Either directly or in the open air in or in a beautiful gazebo with friends you can enjoy gourmet specialties prepared on the grill.
Conference room
---

Pension Koruna's location with its capabilities are ideal for corporate events and happenings. Nearby you can visit Bojnice Castle, picturesque valley Nitrianske Rudno. This place is a connection in the direction of Trencin to Banska Bystrica. Show your foreign business partners nice face Slovakia. Or reward your employees the stay in a pleasant environment. Our guest house is the right place for your company meetings or event. We offer you a couple of designated areas. Party tent with a capacity of more than 100 people, restaurant and rooms with a capacity of 40-70 persons, cofee bar, training room with a capacity of 30-40 persons, small banquet room with a capacity of 8-12 people, large outdoor summer-house with fireplace with a capacity of 40 people and a small outdoor seating with a capacity of 8-10 persons.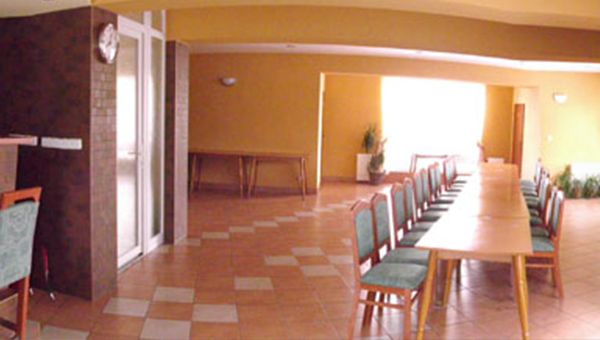 Bar
---

Take your free time. And especially that one day you can spend with your loved ones and friends in the evening with a glass of good wine. Bar, lounge, outdoor terrace. All theese are the best place for relaxation and meetings all types. Beautiful view to the lake Rudno gives the coffee time an extraordinary dimension. Space with many features for parents and their children, for friends, good for business meetings. This is a very nice place full a lot of beautiful moments, which will remain in the memory.